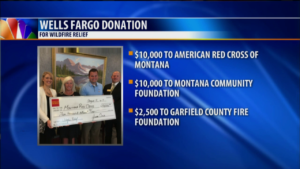 The company says $10,000 will go to the American Red Cross of Montana, $10,000 to the Montana Community Foundation and $2,500 to the Garfield County Fire Foundation.
"Wells Fargo is committed to our communities, and this means helping our team members, friends and neighbors affected by these wildfires," said Joy Ott, Montana region bank president for Wells Fargo, in a press release. "Our hearts and help go out to those who have lost and those still in the path of the blazes. We are a part of the communities affected, and we greatly appreciate everything the firefighters, first-responders, volunteers and Red Cross are doing to help protect and support everyone impacted."
Throughout the fire season, the Red Cross of Montana opened 18 wildfire shelters across the state as fires burned homes, property, and Montana livelihoods.