Megan Malkin is no stranger to Helena. One of her childhood pastimes included exploring the forgotten places and parks across Helena. Frequently, this led her family to the 6th Ward/Railroad District where they would stop at Beattie Park to see the old train and reminisce about the old days of Helena.
This connection to the Midtowne Historic District or 6th Ward/Railroad District stayed with Megan into adulthood. After several years of working in network marketing and online vintage reselling, her dream grew to include a barn storefront for her vintage market. One day, while working in the 6th Ward community garden, she spotted a gable roof, which piqued her interest. Megan shared, "I truly believe that God planted me there. I had been looking for a barn for a business and God opened the door for me." At the time the building wasn't for sale or for rent, yet she sought out the owner, persisted, and opened her doors to the Mae & June Vintage Market in May 2018 at 1238 Bozeman Avenue.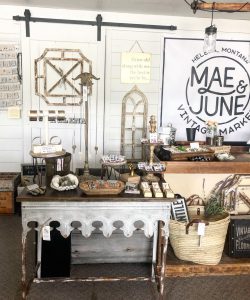 Switching gears from national network marketing to local retail was a major shift for Megan. In many ways, it helped reinvest her energy into building community in Helena. In addition to growing her business, she is helping bring other businesses to the Midtowne District by connecting building owners to business owners. "I want to see Midtowne alive. I want to create a safe, family-friendly, thriving, revitalized historic space that connects to Downtown Helena and brings more people into town and into the District."
Megan gets it. She sees the ripple effect of local community building first-hand. When she changes her shop, it changes the neighborhood, which changes the community, which changes the place. At her core, she hopes to honor the history of the area, while actively building its future through business and community development. Megan believes that, "everything good starts small. It starts as a small seed and grows into a jungle." The Midtowne District 'jungle' is just beginning to grow.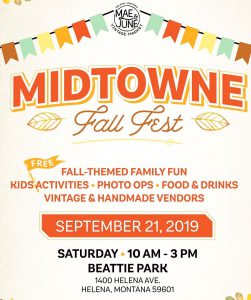 Come join Mae & June Vintage Market for MIDTOWNE FALL FEST on Saturday, September 21, 2019 from 10 AM – 3 PM in Beattie Park. This family-friendly event is free and open to the public. There will be free kids activities as well as vintage and handmade vendors. 
Follow Mae & June Vintage Market on Facebook for specials, extended shopping hours, workshops, events, and more. 
Mae & June Vintage Market Hours
Wednesday: 10 AM – 2 PM
Thursday: 10 AM – 2 PM
Friday: 10 AM – 2 PM
Saturday: 10 AM – 2 PM
Closed Sunday through Tuesday
Article written by Anna Strange Consulting for the Montana Business Assistance Connection.